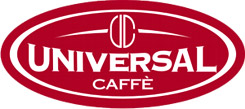 The love for coffee, the passion for work and the constant effort to improve has made Universal Coffee the undisputable and veritable leaders in the beverage industry. The Universal Coffee was started in Pescara in 1963, when Raphael Camiscia opened his first coffee roasting plant. Backed with advanced machinery the company now exports its products to over 25 countries, and has a strong international presence.
Dedicated to deliver quality products, Universal is a socially responsible company which fosters profound values of commitment, honesty and moral righteousness. These qualities have always been the guiding force of the Camiscia family and have helped sustain growth beyond money.
Headed by Natascia Camiscia, the founder's daughter, Universal Caffè is dedicated to the unique mission of combining the hand-crafted tradition, with the modernity of the best technologies. Quality products with unique blends, refined flavours along with uncompromising values have helped develop long term relationships between Universal and its invaluable customers.